Live Time Tracking
Watch live as teams of employees Clock In and Clock Out, tracking what Projects they work on.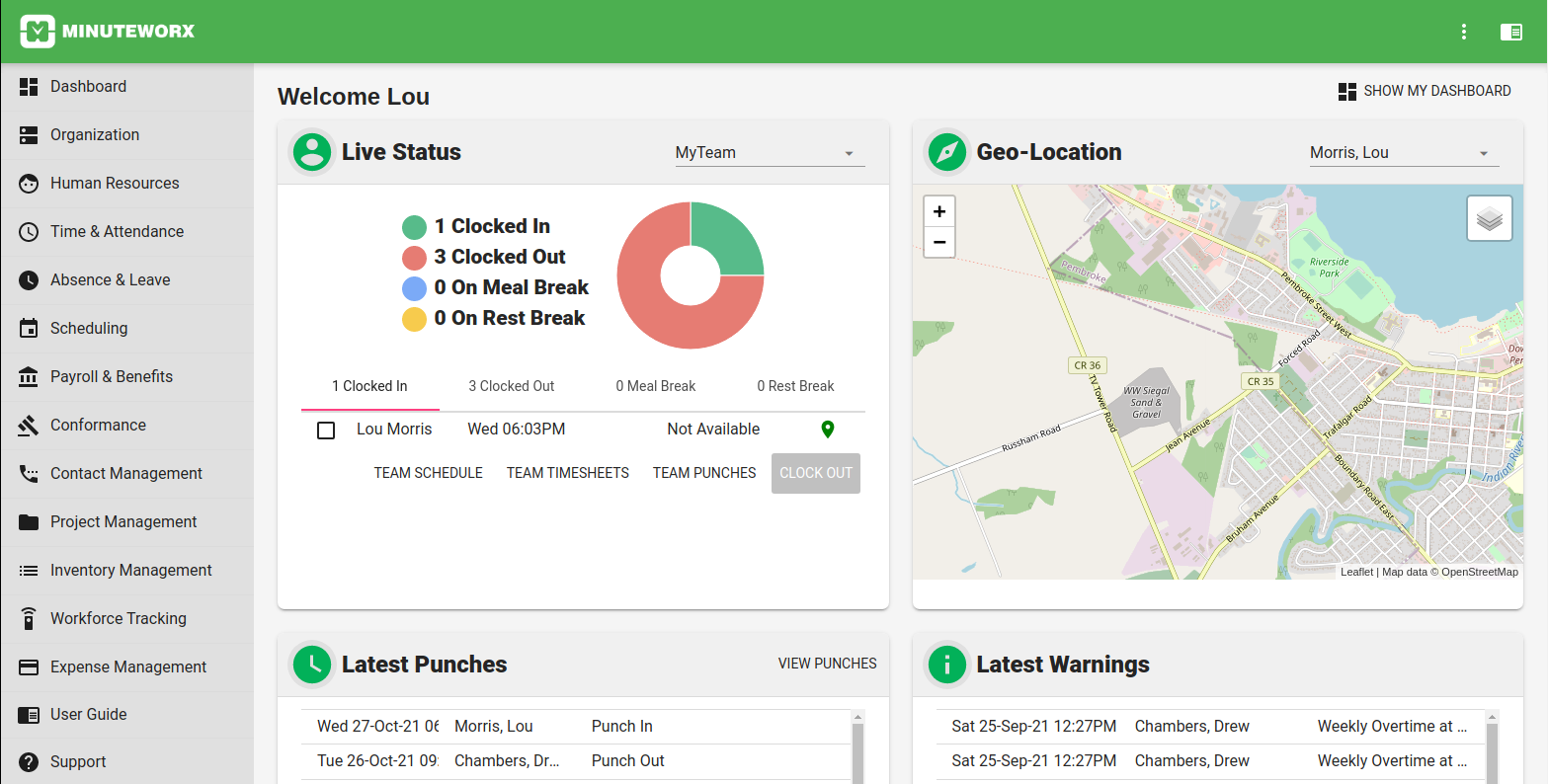 Timer
Track time with punch clocks
Watch
See which employee is working on what
Notify
Receive notifications for missed shifts, late clock in, overtime or long breaks
Map
See where employees are as they work
Timesheet
Review, adjust and approve weekly work hours.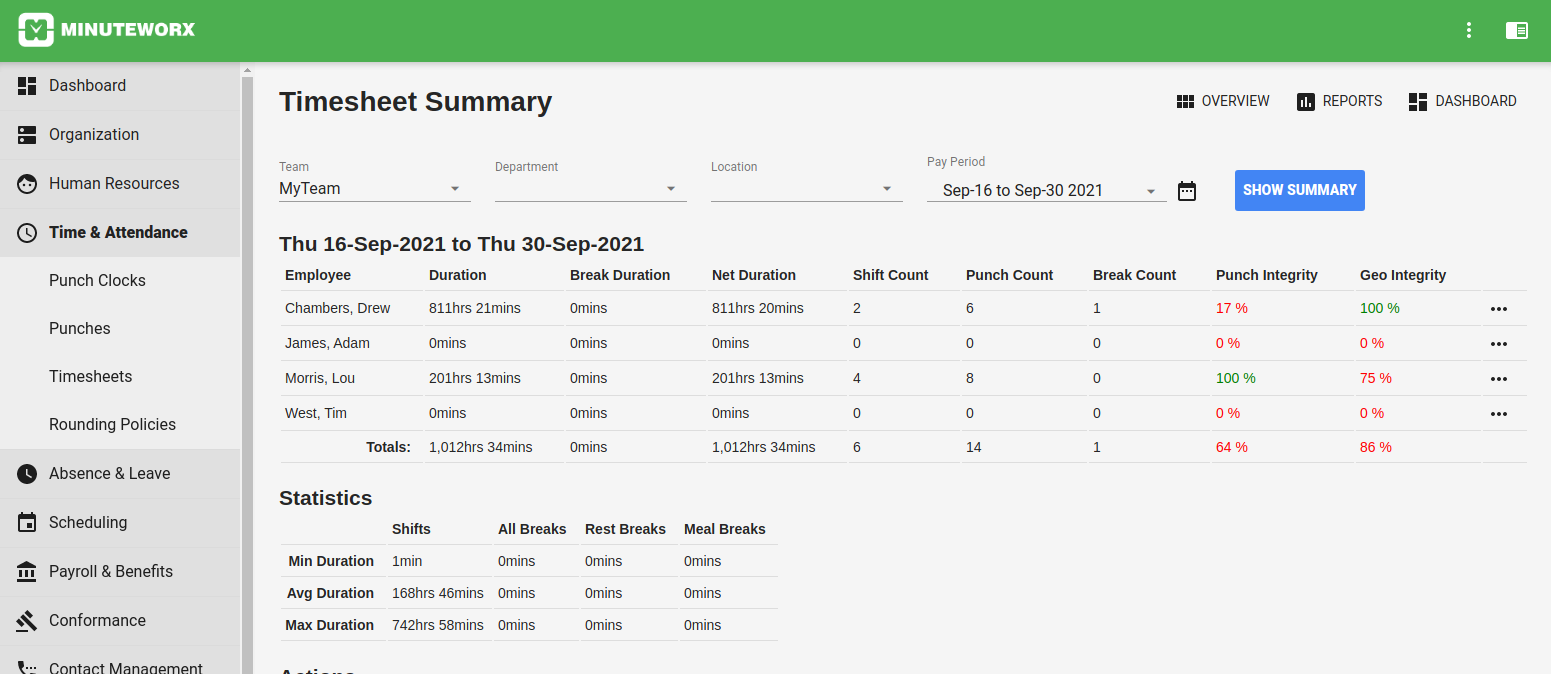 Access
Employees view timesheets any time from punch clocks
Review
Team supervisors review and adjust work hours
Approve
Close payroll or post timesheets to Quickbooks
Sign-Off
Print timesheet sign-offs
Work Shift Scheduling Calendar
Build and distribute employee work schedules, track time-off and vacations, and quickly integrate with Google Calendar.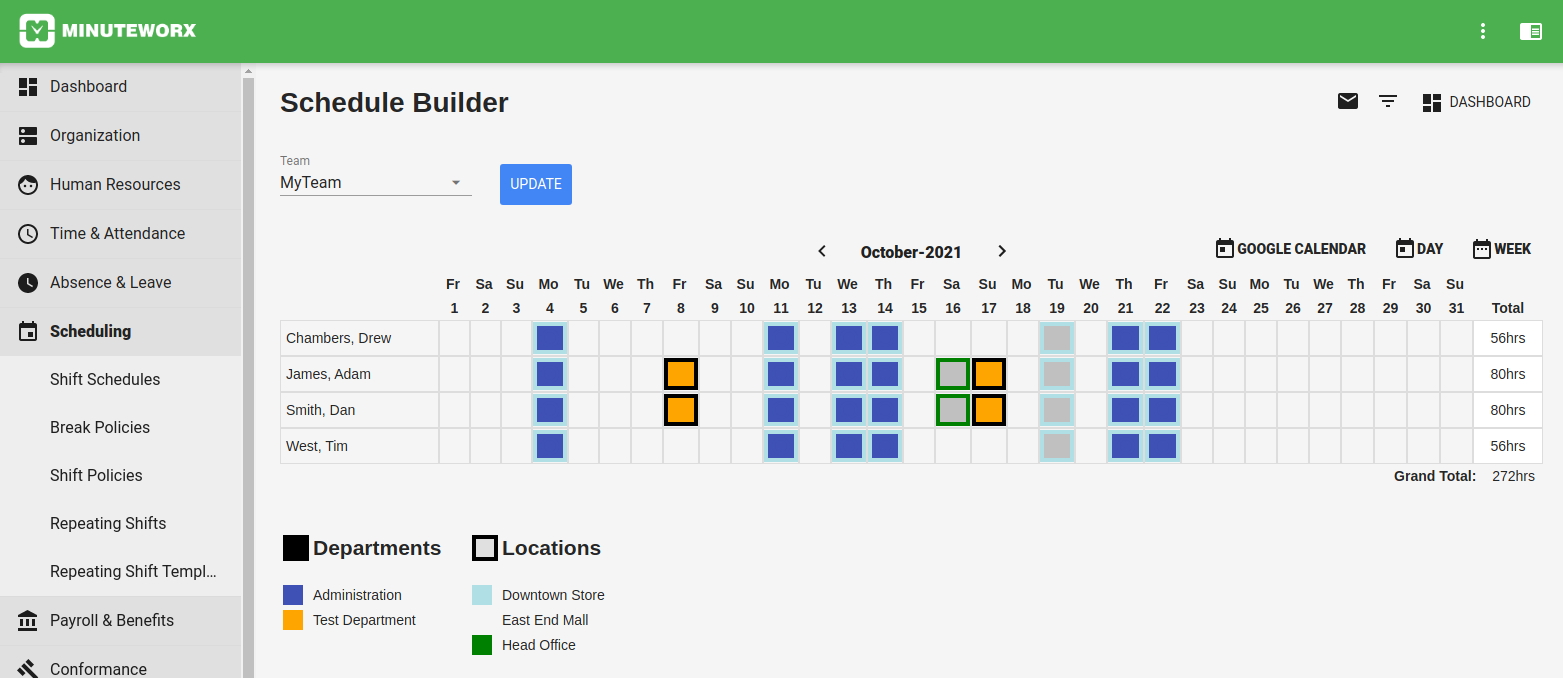 Work Shifts
Build employee schedules
Time Off
Track absence and leave
Google Calendar
Sync team schedules
Distribute
Email employee schedules
Project Management and Job Costing
Track Tasks and Job Costing for your projects, departments, locations and customers.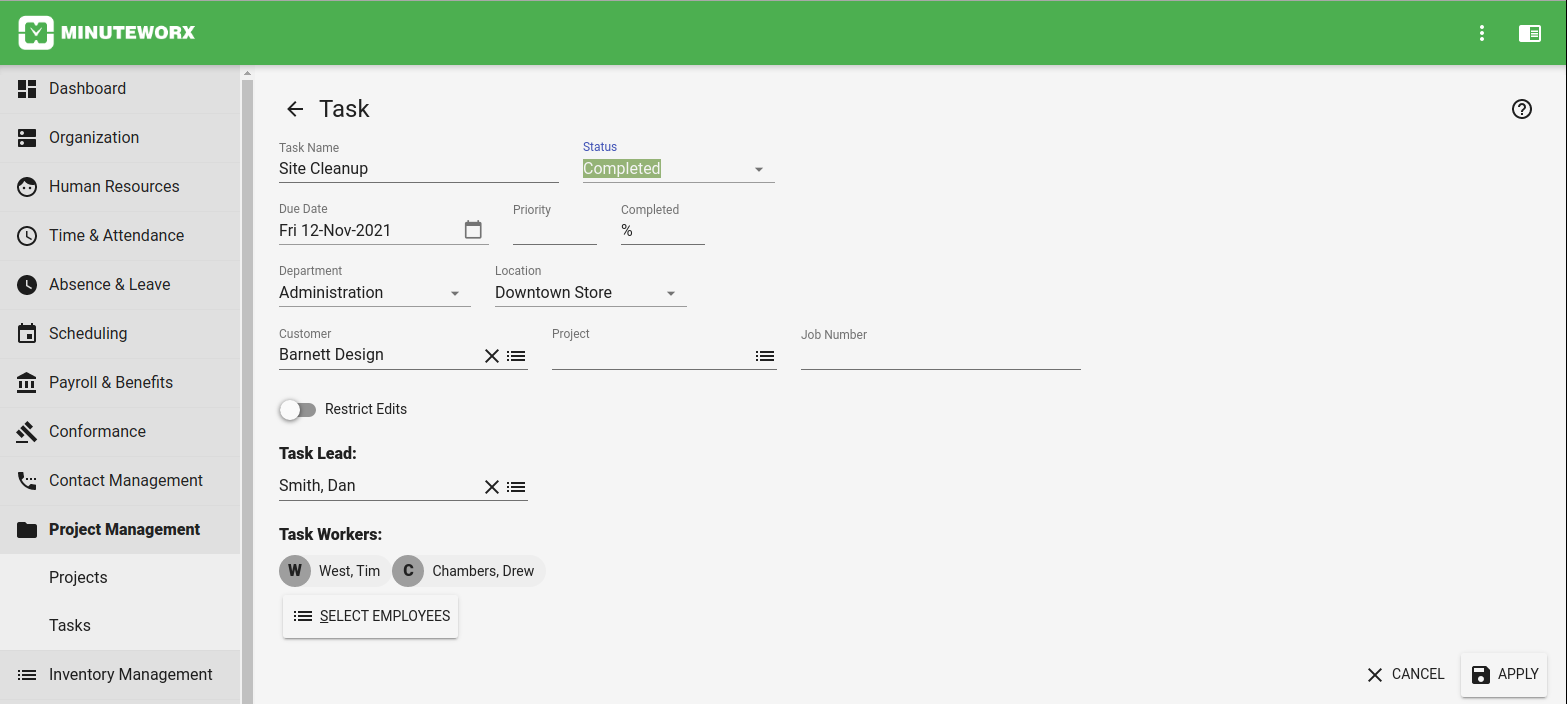 Tasks
Track time for teams
Job Costing
Track billable hours
Customers
Manage customers and projects
Export
Create job costing and billing reports
Expense Tracking
Track Employee expenses and run reports in CSV and Excel formats.

Add
Easily add expenses from time clocks
Budget
Track expenses for teams
Department
Track expenses by department
Accounting
Create expense reports
Trip Logs
Track Employee trips and run reports in CSV and Excel formats.

Add
Track driving time from punch clocks
Location
See GEO Location for employee trips
Compensate
Pay employees by the mile
Workforce Tracking
Create trip log reports
Inventory Management
Allow employees to check equipment in and out, flagging items requiring maintenance.

Inventory
Build a list of work equipment used by employees
Count
Track inventory levels
Organize
Track manufacturers, serial numbers and purchase dates
Maintenance
Track equipment life spans and maintenance dates
Workforce Tracking with GEO Location
View employee locations as they clock in, clock out, drive, spend, or work on tasks.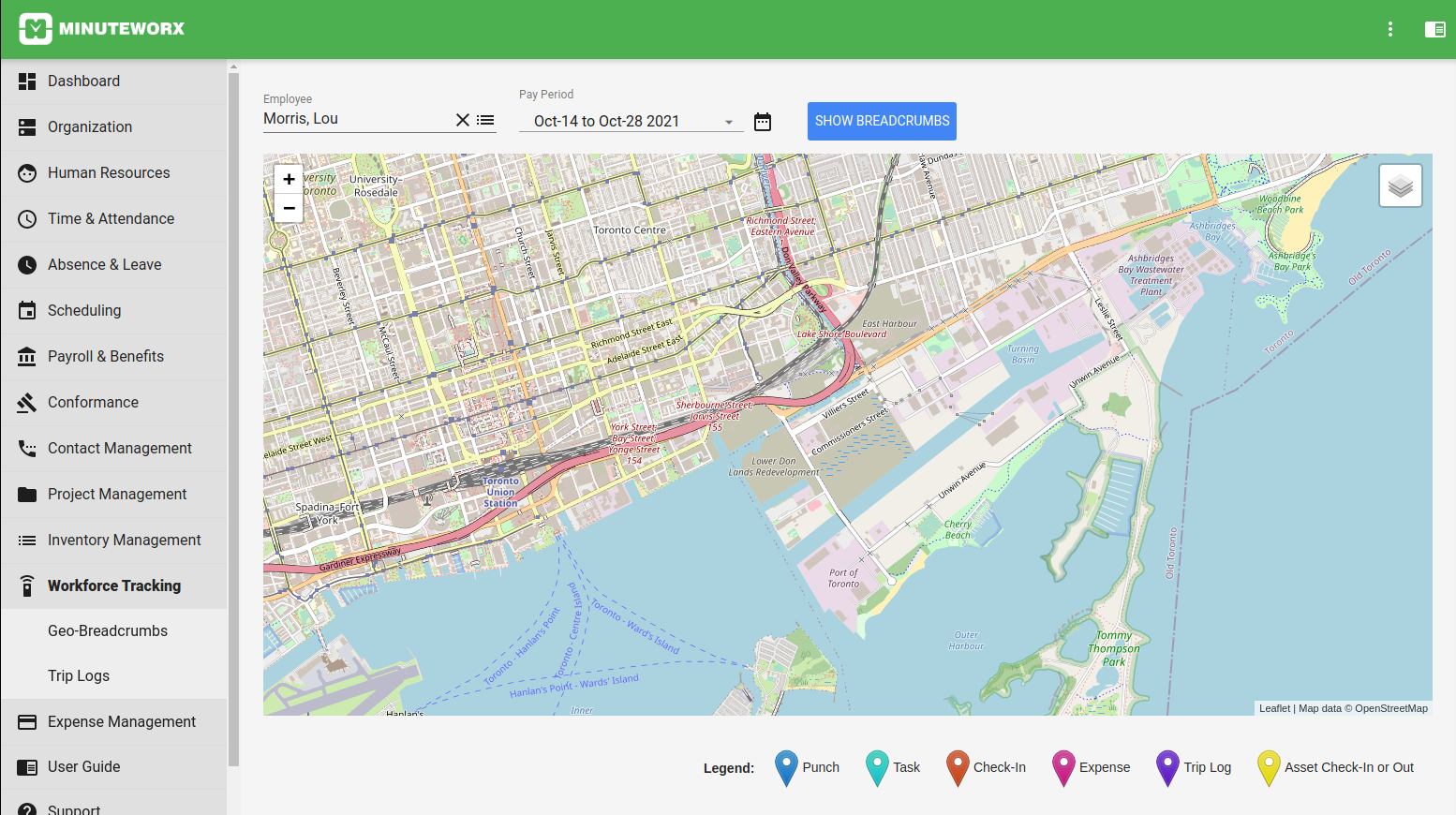 Watch Live
See employee locations as they work
Compliance
Ensure Location Service is working and enabled
Union Friendly
Secure, private, and non-intrusive location tracking
Breadcrumbs
See locations for punches, expenses, tasks, trips and equipment check-outs
Time Clock, Timesheet and Payroll Reports
Build CSV, Excel or PDF reports for categories such as timesheets, pay sheets, expenses, trip logs, inventory, and time-off summaries.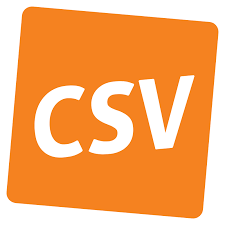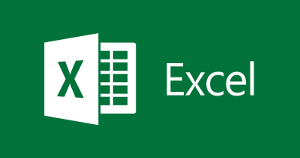 Timesheets
Create Excel timesheet reports
Pay Sheets
Create Excel pay sheet reports
Intuit Quickbooks
Sync timesheet with Quickbooks
Reports
Create timesheet sign-offs, timesheet summaries
Mobile Time Clock Apps
Android, Chromebooks, iPhone, iPad, Desktop

Third Party Integration
Connect MinuteWorx with other apps.