A Free employee time clock app
Choose the best online time clock app for your employees. First 2 users free forever! Easily allow your staff to clock-in and clock-out using their smart phones. Manually review and modify timesheets, track time and attendance, approve absence requests, view employee work on tasks, and export data for payroll and billing. Integrate timesheets with Intuit Quickbooks, and schedules with GSuite Calendar. See details
Runs on any device - desktop and mobile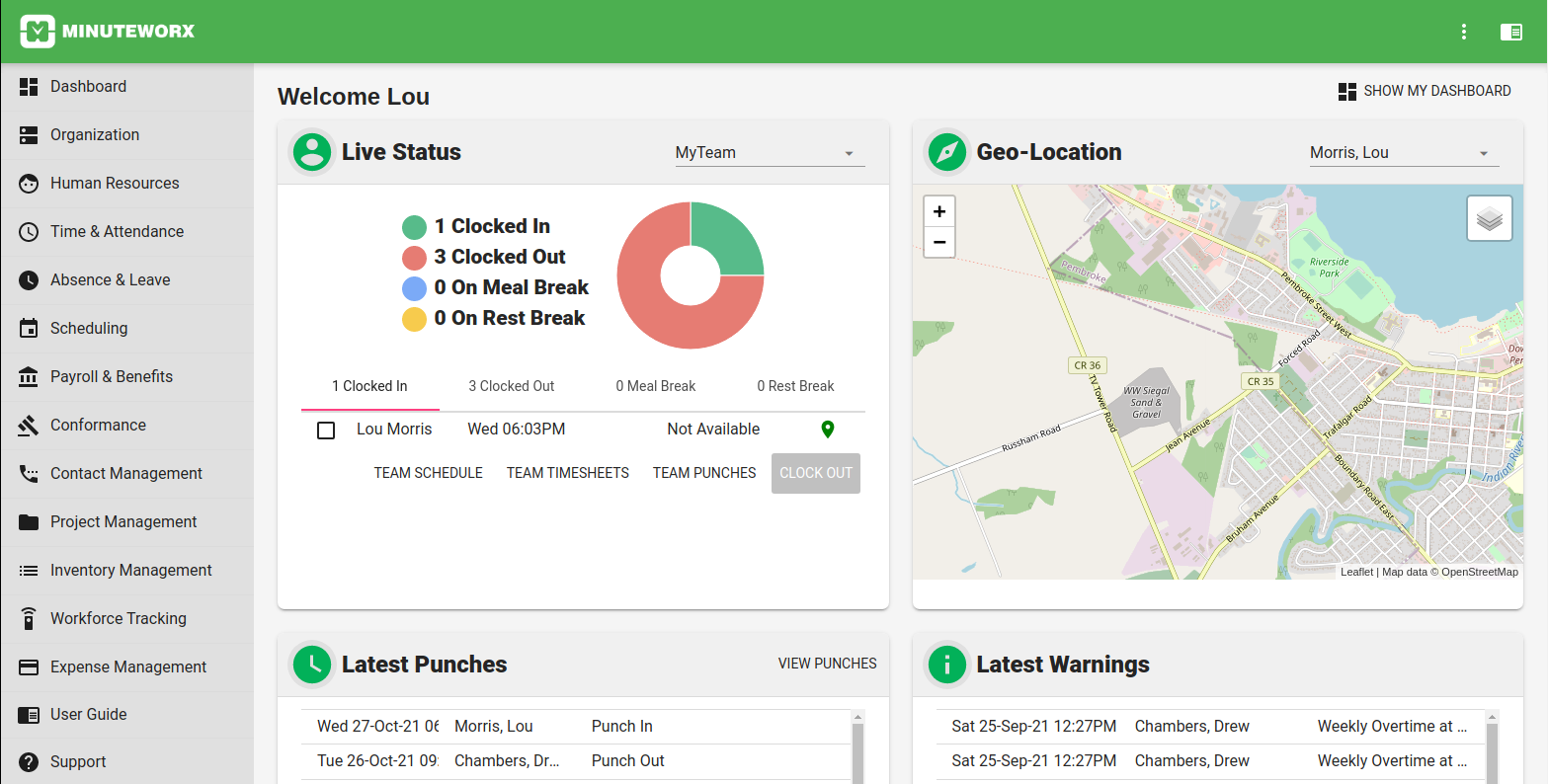 A Worry Free time clock app
Try MinuteWorx today as your free punch clock app solution. Easily enable a time clock on any web-enabled device. Tired of paper time cards? Need a cloud based time tracking system? Boost employee productivity, and try MinuteWorx as a great alternative to paper time cards or excel spreadsheets.
Enable your employees to clock in using their mobile phones, chromebook or desktop computer, while protecting their privacy and minimizing data usage. Need to track employee time for paid and unpaid meal and rest breaks? Employees forget to clock in or clock out? Allow supervisors to be notified when employees are late, take long lunches, go into overtime, or need to approve time entries submitted by employees.
MinuteWorx is a web app loved by teams of employees and supervisors. Use our easy-to-deploy iOS and Android punch clock apps to track employees who work remotely.
Track work hours for projects and Job Costing
Calculate billable hours, labor costs, and generate Intuit Quickbooks payroll reports
Track project progress and costs with full Google Workplace Calendar integration
Track attendance, time off, vacation, and breaks
Check-out details on how to setup a clock in system for your office
We Keep Your Team's Data Private
For over 10 years, MinuteWorx has built a reputation of trust by always keeping employee data private. We never sell or share your data with 3rd parties, even for the first 2 FREE users!
Avoid costly HR privacy issues by ensuring the time clock app your organization uses does not sell employee data in exchange for free usage. Beware of free apps which track your employee's work patterns and GPS location movements, only to profit from selling your data to 3rd parties. Your team's personal data and staff behavior patterns can be worth more than the up-front fee you pay.
How can MinuteWorx offer free usage without selling or sharing data? Our free offer brings us referrals, and we charge organizations with more than 2 employees a fair, up-front price to keep our lights on without the need to sell your data to 3rd parties!
How to setup your time clock app
Step 1
Create MinuteWorx account
Step 2
On-Board and Invite your employees to add a punch clock to their device
Invite unlimited number of employees.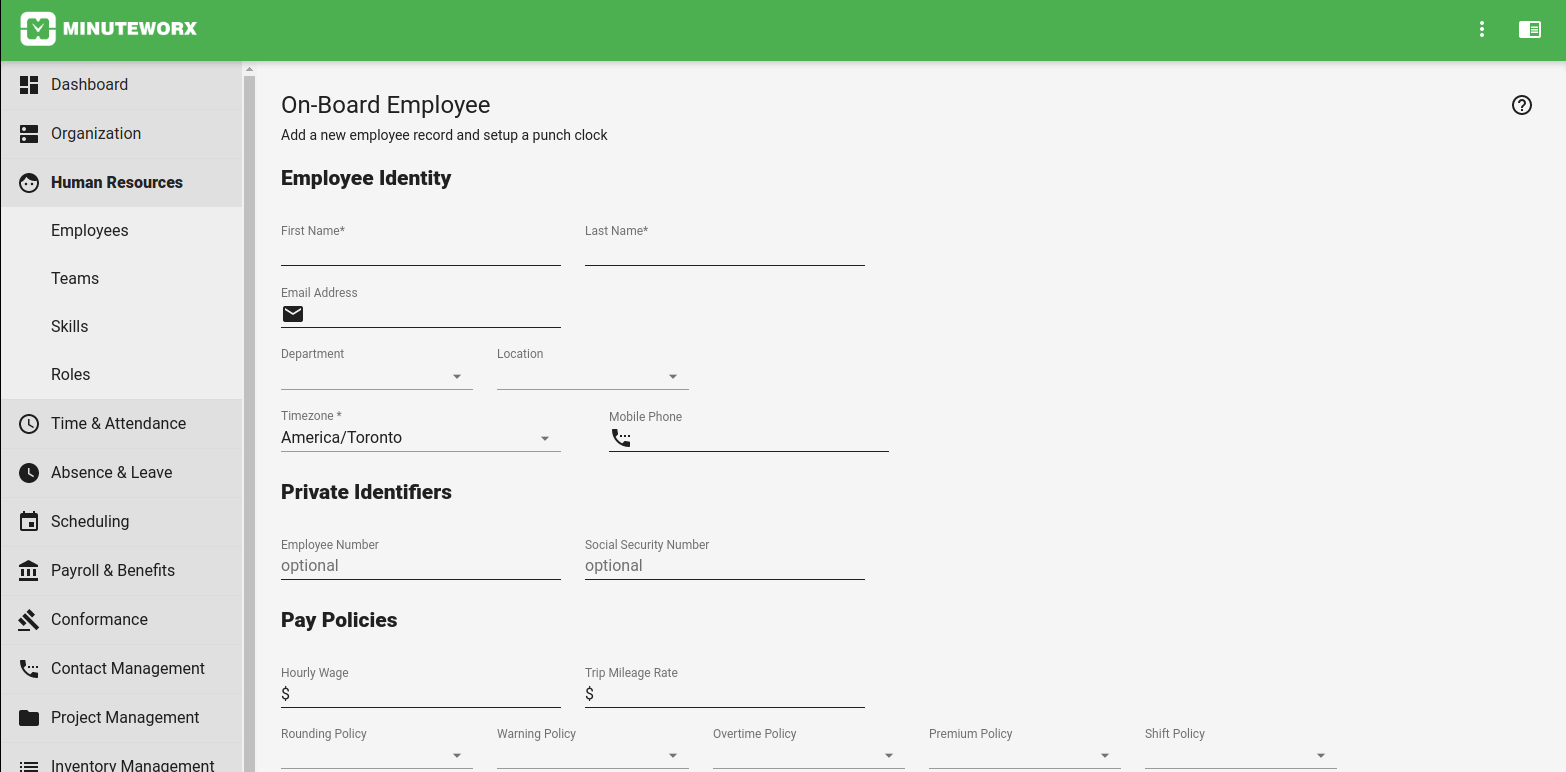 Step 3
Mobile device Punch Clocks
Teams of employees clock in and out using their own personal punch clock installed on their mobile device. They can also clock in using a shared punch clock setup on a common device. Employees can simply start a task, choose a project, customer or enter job numbers during the course of their work day.
Employees can review and approve timesheets any time from their time clock.
Schedule employee Shifts and Integrate with Google Workplace calendar API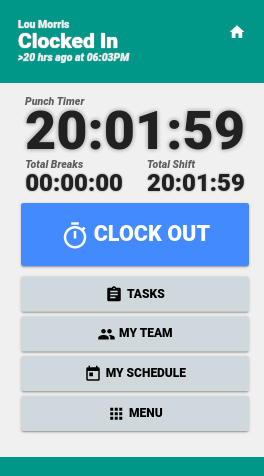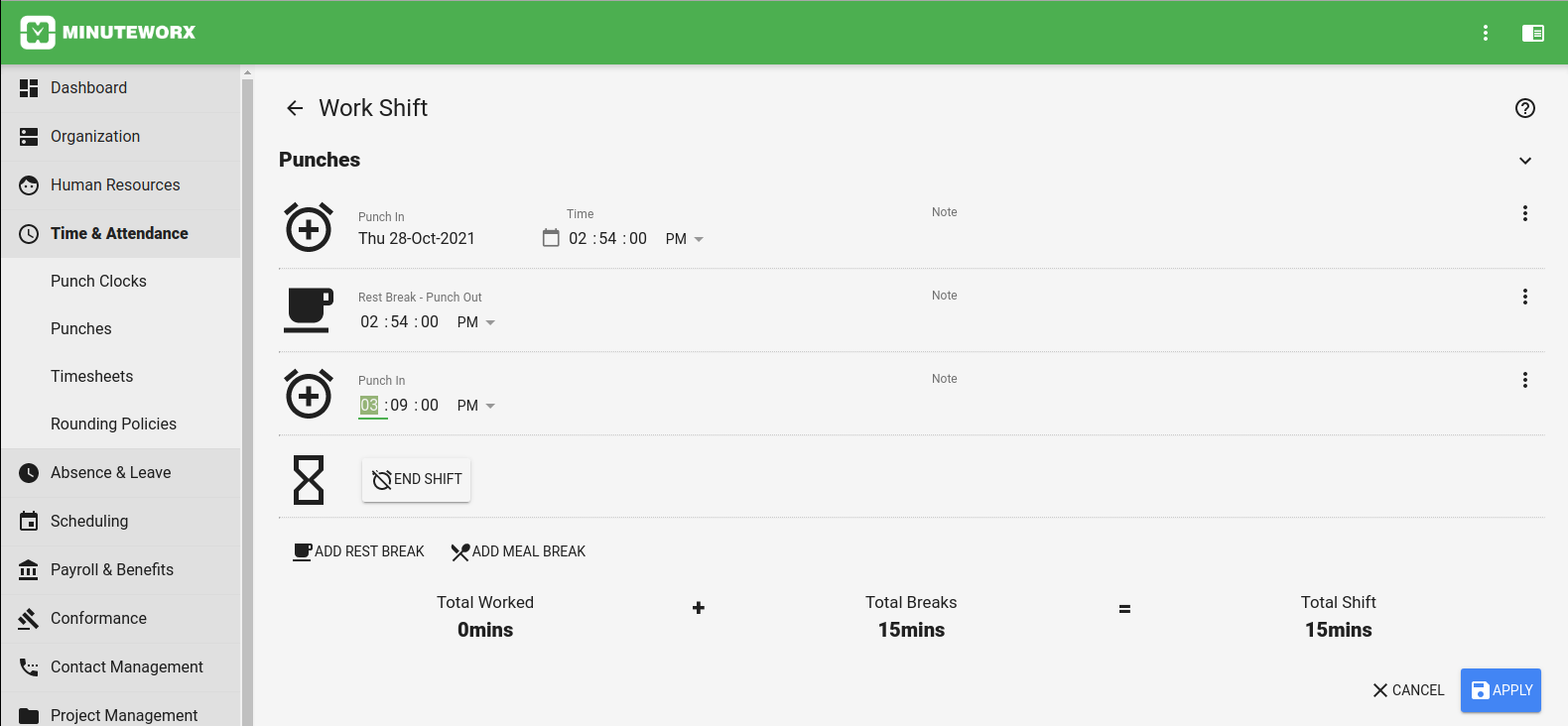 Step 4
Watch live as employees clock-in or clock-out, leaving GPS location breadcrumbs
Monitor employees in real-time and obtain a full overview of job costing, always knowing what tasks your teams are currently working on.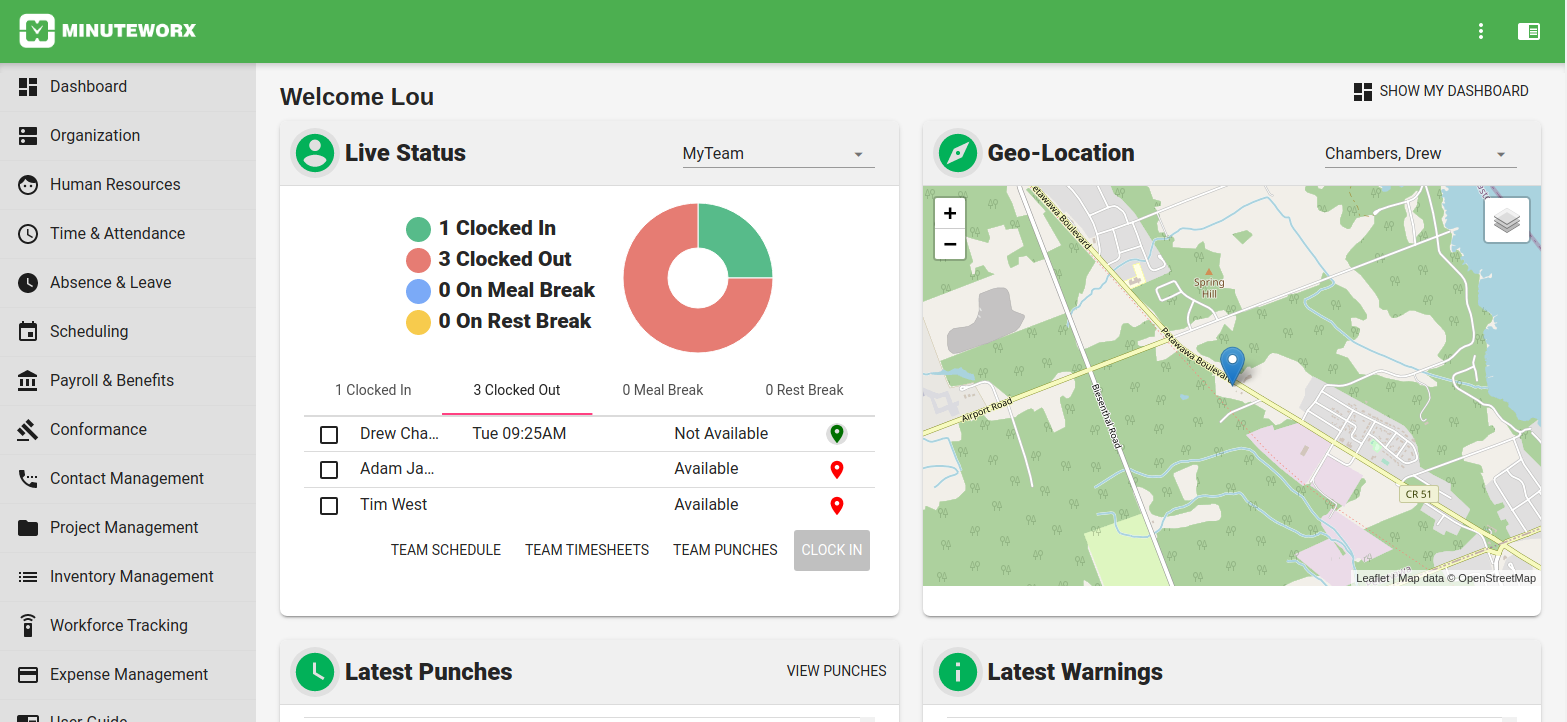 Step 5
Review Employee Hours
Daily, Weekly or Monthly payroll reports summarize total employee work hours for each pay period. Setup Warning Policies for events such as employees forgetting to punch in, taking long lunches, or going into overtime, resulting in MinuteWorx sending email notifications to supervisors.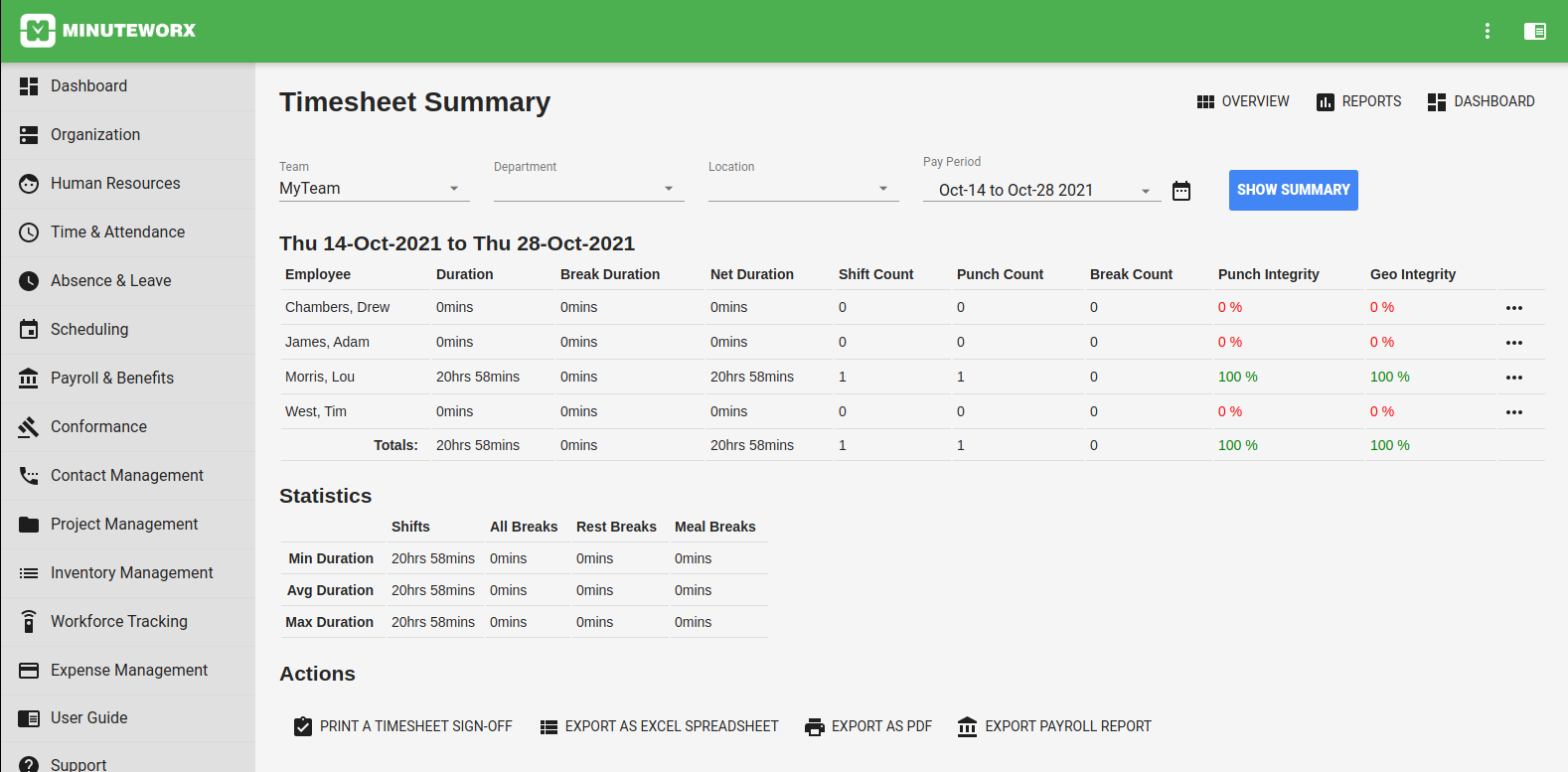 Step 6
Export Excel timesheet reports
Facilitate your payroll process by providing your team with comprehensive Excel, CSV and PDF payroll reports they can trust and rely on. When payroll day arrives, MinuteWorx reports can be quickly exported in various formats, and can easily integrate with Intuit Quickbooks.

Step 7
Watch GPS locations as employees clock in and clock out
Track the locations of your employees as they drive from one work site to the next. Track employee GPS locations as they ad expenses, check equipment in and out, or log trips.
Details on GPS Employee Tracking